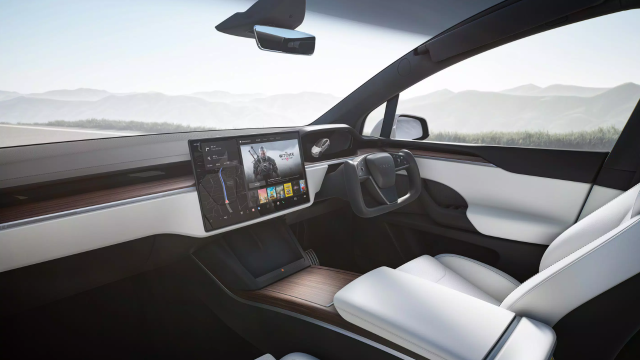 Owning a Tesla is not just about driving an electric vehicle; it's an experience that combines cutting-edge technology, sustainability, and a touch of luxury. To take your Tesla ownership to the next level, consider accessorizing with items that enhance comfort and style. From interior upgrades to exterior enhancements, here's a selection of Tesla Accessories essentials that will make your daily drives even more enjoyable.
1. Custom Fit Floor Mats
Protecting your Tesla's interior is essential, and custom-fit floor mats are a great place to start. These mats are designed to match the contours of your specific Tesla model perfectly. They provide all-weather protection, ensuring that mud, snow, or spills won't harm your car's floors. Many options are available, including all-weather rubber mats and plush carpet mats, allowing you to choose the style that suits you best.
2. Center Console Wrap
Tesla's minimalist interior is elegant, but it can benefit from a touch of personalization. Consider adding a center console wrap that matches your preferences. Wraps are available in various materials, including carbon fiber, wood grain, and matte black. They not only protect your center console from scratches but also add a custom look to your Tesla's interior.
3. Wireless Charging Pad
Say goodbye to tangled charging cables with a wireless charging pad for your Tesla. These pads are designed to fit seamlessly into your vehicle's center console and provide fast wireless charging for your smartphone. Keeping your device charged and ready is now more convenient than ever, making your daily commutes more efficient.
4. Performance Pedal Covers
Enhance the sporty feel of your Tesla's interior with performance pedal covers. These covers replace your standard pedals with brushed aluminum or stainless steel options, adding a touch of elegance to your cabin. Beyond aesthetics, they also provide better grip and control, making your driving experience more engaging.
5. Seat Covers
Protect your Tesla's seats while adding a touch of luxury with custom seat covers. Choose from various materials, including leather, faux leather, and fabric, to match your style and preferences. Seat covers not only shield your seats from wear and tear but also provide added comfort and a personalized look to your interior.
6. Aero Wheel Cap Kit
If you have a Tesla Model 3 with Aero wheels, consider an Aero wheel cap kit. These kits allow you to remove the standard aero covers and replace them with stylish and customizable caps. You can choose from a variety of designs, including the classic Tesla logo, to give your Model 3 a unique and personalized appearance.
7. Chrome Delete Kit
Transform the exterior of your Tesla by adding a chrome delete kit. These kits replace the chrome accents on your car with black or matte black pieces, providing a sleek and modern look. Chrome delete kits are available for various Tesla models and can significantly enhance the aesthetics of your vehicle.
8. Window Tinting
Enhance your Tesla's style and comfort with professional window tinting. Tinted windows not only add a touch of privacy but also help regulate interior temperatures and block harmful UV rays. Choose a reputable window tinting service to ensure a high-quality installation that complements your Tesla's design.
9. Carbon Fiber Spoiler
Add a touch of sportiness and aerodynamics to your Tesla with a carbon fiber spoiler. These spoilers are available for different Tesla models and are designed to enhance the vehicle's performance and appearance. Carbon fiber is known for its lightweight and durable properties, making it an excellent choice for a spoiler.
10. Paint Protection Film (PPF)
Preserve your Tesla's pristine paint finish with paint protection film (PPF). This transparent film acts as a shield against road debris, minor scratches, and environmental damage. Investing in PPF not only keeps your Tesla looking brand new but also maintains its resale value.
Customizing your Tesla with these accessory essentials allows you to create a driving experience that reflects your personality and preferences. Whether you prioritize protection, style, or performance enhancements, these accessories enhance the comfort and aesthetics of your Tesla, elevating your ownership experience to new heights. So, embrace the world of Tesla accessories and enjoy the journey in style and luxury.